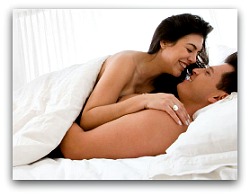 Ask any couple- what is the most frequent source of arguments in relationships?  We have all heard it before; what do couples fight about  –  money and sex!  While this may be a true statement and there may be a lot of fighting happening around your sex life, sex and intimacy can be one of the best parts of your relationship. While it can provide us with the obvious physical connection and pleasure, sex has the added benefit of allowing you to feel more emotionally connected, and can be a great way to express your love and passion for each other. It can also be a great source of fun in our relationship! So, how do we prevent sex from becoming something that we battle about?
Worry more about quality vs. quantity-We often get hung up on quantity and the "magic number" of times to have sex in a week that makes for a good sex life. While there may be some discrepancy between you and your partner as to how often is "enough", try to focus on finding a happy medium and then pay attention to the quality. Notice- are you both having fun during sex, or just going through the motions because you need to get in a certain number of times a week? If you and your partner are enjoying your time together, having fun and feeling satisfied, (both physically and emotionally!) after sex, then take the pressure off the burning question "how often should we be having sex?" Another key to this is to not compare your sex lives to others. It can be easy to feel like your own sex life is "bad" if your friends are having twice as much sex in their relationships. But remember, every couple is different, they may be making it sound better (or worse) than it really is,  and your satisfaction shouldn't be based on anything but your own relationship.
Think outside the box-We can all remember that wonderful time at the beginning of our relationship when sex was amazing-spontaneous, frequent and filled with passion. But, the reality is that as we progress through stages of relationships and out of "Romantic Love" and stressors such as work and family start to impact our relationship, sex often turns into something routine. Be creative with timing. Couples with busy lives often feel they have no choice but to wait until the very end of the day, leaving them tired and more interested in zoning in front of the television or sleeping than having sex at that point. While it may be hard to "squeeze" in sex in between work, chores and taking care of your kids, think about times when you can get creative. Take advantage of napping kids, a fun break from chores, or some after dinner fun if the kids are occupied with their own activities.
Let's talk about sex-Communicating with your partner about this topic may be difficult. Although your partner is someone you likely share the most intimate of thoughts with, not all of us feel comfortable talking about sex. While it may feel awkward, as with most things in our relationships, communication is key! The more we can share our likes and dislikes with our partner, the more satisfied we are likely to be. And, as with most things, the more we do talk about it, the more comfortable we are likely to get. As an added bonus, the intimacy you can feel from just having these discussions and sharing your desires can provide a feeling of emotional connection that can be just as good as the connection you get from the act itself.
Focus on more fun and less romance-When we read books and watch movies, we often see that sex is all about the romance. We are bombarded with scenes of candlelit bedrooms or steamy sex in the shower. Romance is certainly great and we all crave that at times, but sometimes we get so caught in trying to be romantic, that we forget that sex should also be fun! Remember that is okay to talk during sex and suggest something that might be different and fun for you. And it's even okay to laugh during sex if things don't go exactly as planned! I once had a couple tell me "I knew our sex life was good when we could both start cracking up while we were having sex."
Make sex a time for togetherness rather than achieving a "goal" – In movies and on TV, it seems that sex always includes intercourse and both partners always have an orgasm.  In real life, that's not the case.  If you believe that for sex to "count", you both have to have to climax, that can put subtle pressure on one or both of you.  Instead, broaden your definition of "sex".  It could include togetherness, touching, playing, arousal, laughing, role playing, and/or closeness but not necessarily an orgasm.  If orgasm(s) happen, great.  If they don't, that's okay too.  If you don't make that the unstated "goal" of sex, you'll be more relaxed.  Let whatever happens, happen (as long as you both consent) because the real purpose is togetherness and connection.
If you need help reconnecting and bringing the intimacy back in your relationship, contact us at getsupport@therapycenterofnj.com or 908-246-3074.