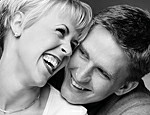 Has your relationship been going just fine, but every so often you realize the two of you don't have much fun together anymore? This might seem like no big deal, but be warned: this can set the stage for infidelity.
As life and responsibilities get in the way, many couples inadvertently put their relationship on the back burner.  While you may be managing the other aspects of your life pretty well, it's all too easy to lose sight of the love, fun and laughter you once shared. But without fun and shared laughter, your relationship can weaken.  The years can pass by like this almost without realizing it.  If then, your spouse (or you!) happen(s) to meet someone else, that longing for stimulating conversation, playful banter, and sexual eroticism can be activated and can lead to an affair.  Many affairs happen because the opportunity presented itself at a time when the primary relationship was weakened, but not in crisis yet.  Don't let this happen to the two of you.  Don't lose sight of just how vital fun and laughter are to the health of your relationship.
So, how do you bring fun back into your relationship? How can you strengthen and deepen your connection with joy and shared laughter? A good place to start is to think back to your early romance.  What did you used to enjoy doing as a couple when you first got together?
Think about the fun activities you once shared.
Did the two of you participate in or attend sporting events together?
Do you share a love of music – either playing or listening together?
Did you have fun traveling together, either to far-off places or to places closer to home?
Did you enjoy eating out together, either at a favorite spot, or trying new restaurants and cuisines?
Did you enjoy picnicking in a romantic spot or perhaps even cooking together to create a delicious meal?
Did you enjoy working on projects together for a shared sense of accomplishment?
Did you enjoy spending active time together outdoors or relaxing together indoors playing cards or board games?
Make it a point to spend time together, just the two of you, doing some of the things that initially brought you a sense of partnership and pleasure in your early romance. Or, do something new together.  This can help you rediscover just how much fun your partner can be.  Sharing laugher, reminiscing and making new memories can help keep your marriage strong and is just plain FUN.
To learn more, visit us atwww.couplestherapycenterofnj.com, call 908-246-3074 or email GetSupport@CouplesTherapyCenterOfNJ.com.